Concrete Driveways and Walkways
Concrete driveway replacements & new installations for Michigan homes.
Whether your landscaping improvement needs include adding a patio, a fire pit, or a secret garden walkway, Martino Home Improvements will help bring your visualization to life. We have the experience it takes to excavate and level the area, pour concrete, lay brick, place stone or customize exposed aggregate.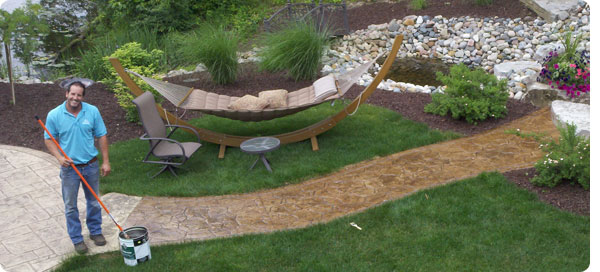 Martino Home Improvements will help determine your concrete needs based on function, accessibility and budget. Working with Martino Home Improvements is a worry-free experience. We offer professional design assistance, ensure that proper permits are pulled, and do everything necessary to make the concrete construction project smooth, efficient, and stress-free. Whether it be one project or a combination of several, we can work with you to make sure your needs are met and you're completely satisfied with the home improvement, building and construction process.
Concrete solutions for visually interesting exterior spaces:
It wasn't that long ago when your choices for a driveway material were easy: concrete or asphalt. But times and technology changes and today the choices a homeowner has are astounding: from "concrete driveway" to "concrete patios" there are literally hundreds if not thousands of decorative options. Plain grey and Plain black are gone and new, bold and exciting are in. Our master craftsmen can create works of art that instantly increase your curb appeal and home value.
Exposed Aggregate: Adds sparkle and visual interest
Martino Home Improvements specializes in exposed aggregate concrete. Perfect for driveways, sidewalks, patios, gazebo floors and pool sides, exposed aggregate concrete embodies a distinct look of elegance and design. By revealing the beauty of the stone underneath, exposed aggregate resembles the look of polished marble or granite. Layers of stone are exposed and then sealed to add dimension and substance. We can tweak colors, patterns and designs to come up with a look you will love! Intended to be long lasting and sturdy, your new exposed aggregate concrete surface will be around for years to come.
Concrete: It's versatile and durable
Artistic expression can also be displayed in a decorative walkway leading to a home or place of business. Cobblestone, painted concrete or flagstone finishes are one of many design options available to choose from. A simple concrete design is also a refreshing way to highlight plants and garden areas, patios, and decks, or any outdoor living space.
Concrete driveway contractor and installation company
A concrete driveway will bring long lasting beauty and substance to your home or business. If you are looking for instant curb appeal to make your house eye appealing and awe-inspiring we can assist you with your needs. We offer simple, straightforward designs that are traditional in nature or we can customize a design to work with the decor and style of your current structure. Curved driveways and parking areas are one of the first things people see upon arriving at a home or business. First impressions count, especially when it comes to driveways and parking spaces. Decorative concrete driveways can create a stately ambiance that is sought after by many. Replicating an old-world brick or paver driveway will have neighbors thinking you spent more on your project than you actually did. Color, stenciling and stamping can add an element of rich interior design to the outdoors. Driveways are a great home improvement project that adds value and substance. See concrete repair services
---
If your outdoor home improvement project includes a new walkway, driveway, patio, or other living area be sure to contact Martino Home Improvement. More Michigan homeowners trust Martino for concrete, exposed aggregate, brick and stone installation and maintenance.
Call 248-629-9260 for a FREE estimate on a new driveway or walkway.