Martino Home Improvements Puts You First!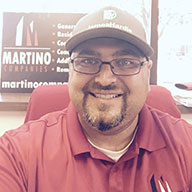 At Martino Home Improvements, we provide the highest quality service and value for your money… Period. We deliver the highest quality workmanship, materials, and hardware. Families all over Michigan have trusted us with their homes for more than 30 years. It's the way my Grandfather did it; it's the way my father did it; and by God, that is the way we will always do it.
Our Commitment to You: If it isn't PERFECT, it isn't DONE. We promise the BEST REMODELING EXPERIENCE you will ever have. And most importantly, absolutely NO NICKEL & DIMING after you sign the contract.
Martino Home Improvements is 3rd generation family owned and operated
Since my grandfather started in this business in 1986, we have been delivering expert craftsmanship for new roofs and roofing repair. Not to mention beautiful custom walkways and driveways, durable siding, gutters and windows as well as interior home improvements you are proud to show your neighbors.
All work is guaranteed
At Martino Home Improvements, we are union-schooled and an Owens Corning Preferred Contractor. Above all else, we take pride in our work and guarantee 100% satisfaction. As a matter of fact, we're so confident in our work we re-inspect it EVERY 2 YEARS. If we see a problem- we fix it, FREE OF CHARGE! How many contractors offer that? Contact us today to learn more!