Is your Michigan home under-insulated?
Save on your energy bill and increase your home comfort with expert insulation installation from the most trusted home improvement contractor in Metro Detroit. Martino Home Improvement will match the right type of insulation to match your needs- and your budget!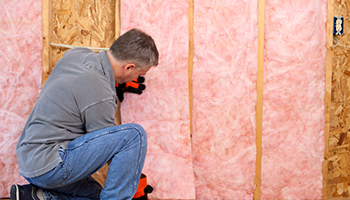 Anyone living in the Detroit area or any part of Southeast Michigan knows just how much the weather can change. From steaming hot summers to ice-cold winters – and just about everything in between – it is for precisely these reasons that a properly insulated home is a must! In Fact, According To The Harvard University School Of Public Health, You Probably Already Own One Of The 46 Million Under-Insulated Homes In The U.S.
Are you wasting money this season on heating bills?
According to the Department of Energy, the average home in Southeast Michigan requires attic insulation with a minimum R-value of R-49 to R-60. However, older homes are notorious for not having adequate insulation. Depending on the age of your home, you could save 20%, 30%, or even 45% (or more!) on your heating bills this season just by having the correct amount of insulation in your attic.
With the economy in such an uncertain state, ensuring your home is properly insulated is more important than ever before. No one wants to spend more money on heating and cooling than is absolutely necessary.
If your home energy bills seem to be out of control, it might be time to have your insulation inspected by a professional. The U.S. Department of Energy estimates that 44% of all energy costs for the average home end up being spent solely for heating and/or cooling. The main reason for this? Critical areas of the home – the walls, attic, and floors – are inadequately insulated. Not having sufficient insulation in these areas can lead to warm or cool air escaping out of your home. If you don't know whether these areas are insulated, if your home is more than fifteen years old, or if you are currently remodeling, now is the perfect time to call Martino for a free inspection.
Insulating your Michigan home – 3 Critical areas to Insulate
Save money on your energy bill and keep your home comfortable in any season! Call Martino Home Improvement today and see what your home is missing.