Once you make the decision to re-side your home, it's essential to choose the best siding material for the project. Many homeowners are discovering the significant benefits of James Hardie fiber-cement siding options. It's the perfect siding solution for new homes, barns, garages, or any structure that needs replacement siding.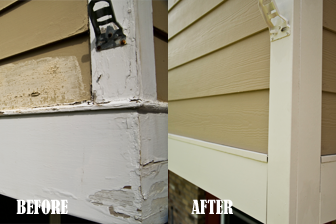 What Is Fiber-Cement Siding?
Man-made from a composite of cellulose fibers, sand, and cement, fiber-cement siding is constructed by the pressing together of those components to form various styles of planks and shingles. The result is a remarkably durable siding product that outlasts most of the competition by decades. You can choose from numerous colors and styles of siding, including designs that resemble wood clapboards, cedar shingles, and stucco. Martino Home Improvements, servicing the Detroit Metro Area of Michigan, are expert installers of James Hardie Fiber Cement Siding.
Environmental Benefits of Fiber-Cement Siding
The siding is manufactured from inert material and will not endanger the ecological balance, even it it ends up in a landfill. Fiber-cement siding is eco-friendly and releases no toxins into the environment. Leadership in Energy and Environmental Design (LEED) has approved fiber-cement for use in LEED® rated construction. The LEED® green building program is one of the most popular certifications in communities around the world.
Recognized Industry Leader in Fiber-Cement Siding
Martino Home Improvements are the experts in the professional installment of James Hardie Fiber Cement Siding. James Hardie is the recognized leader in the fiber-cement manufacturing industry. The Good Housekeeping Seal was granted to the HardiePlank® lap siding, following a rigorous testing process conducted by a team of engineers, scientists, and researchers. Over 30 years ago James Hardie invented fiber-cement, and the company has invested over $100 million in research and development. It is the most popular choice of home siding in America, and the brand that Martino Home Improvements is proud to represent.
Beautiful Array Of Colors
Whether you prefer warm, cool, light, dark, or neutral tones, they are all available in James Hardie® siding products with ColorPlus® technology. When you choose ColorPlus®, you'll enjoy fade-resistant quality in a baked-on proprietary finish that provides even color and coverage design to last for many years. The color palette includes an array of beautiful options that have been chosen by fashion leaders in the industry. The experts at Martino Home Improvements will help you select the perfect choice for your home and personality. If you prefer, you can choose primed and ready to paint fiber-cement siding in order to match other buildings on your property.
Quality Appearance
James Hardie fiber-cement siding has more than five times the thickness of its vinyl competitors. The extra thickness allows for a much more authentic grain look, due to its deeper grooves. The appearance, on a Cape Cod, colonial style, or historic home, is one of elegance. The refined wood-like appearance increases the visual value of your property and adds plenty of curb appeal.
Safety Features
Fiber-cement siding is not bothered by termites, pest, and birds. It is also resistant to rotting, cracking, and warping during extreme weather conditions. The siding you choose to use on your home can increase or decrease the amount of damage a fire causes. James Hardie Fiber Cement Siding does not ignite when exposed to extreme heat or direct flame. This allows time for residents to leave and fire-fighters to arrive before major damage occurs.
If you've made the decision to re-side your home, contact the professionals at Martino Home Improvements for expert workmanship and installation.