Professional home improvements by licensed Michigan contractors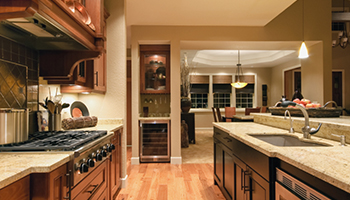 No matter what remodeling job you are considering, Martino Home Improvements is here to serve you. We guarantee our work to be On Budget, On Time. There is just no other way we do it.
Should you buy a bigger home or add on to your existing home?
In the today's uncertain real estate market it is often times far more cost effective to make an addition to your home than it is to try to get your home sold so you can buy a new one.
According to Remodeling Magazine the top 3 home improvements to recoup your investment are:
Looking for more space, but don't want to change your home? Consider a Garage remodel!
It's so simple, yet a large number of homeowners usually look past it. However, the fact of the matter is adding a garage remodel is a cost-effective method of regaining or adding usable space. The "Bump Out" or the "Over-The-Garage Addition" are two methods that people usually don't know about when looking to remodel a garage.
The bump-out addition to a garage can furnish the man of the house with his very own "man-cave". This simple and inexpensive method of creating a room can be done in a matter of days, giving you ample storage space for all those extra items that you need to put away.
Not only can additions be made to the sides and backs of a garage, but also to the top as well. Many clients choose the option of an overhead addition when they consider adding a guest room or home office to their existing home.
If you are looking for ideas to increase the area of your home, add more living space, or increase storage, give us a call. We have designed new spaces for homeowners all over Oakland, Wayne, and Macomb county. We pride ourselves in giving you the true cost of the project up front and guarantee the most accurate quotes on the market today.
---
Whatever your home renovation needs, call us and let's take your boring "old" house and turn it into a brand new Dream Home.