A roof is more than just shingles. While many companies just add another layer on top of the previous shingles, we tear off your existing shingles down to the wood. We then install a complete roofing system composed of many parts that work together to give your home the protection it needs. The difference between a cheap installation and a complete roofing system is drastic.x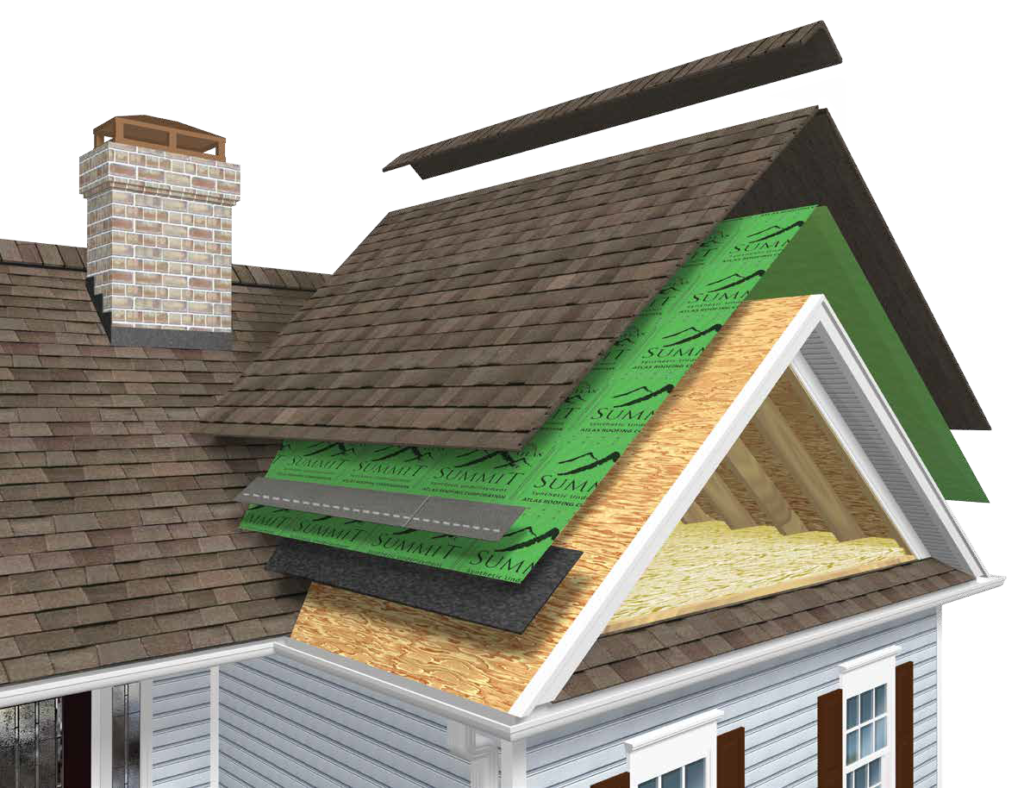 The Martino Roof Replacement Procedure
Site Protection
We lay tarps over your yard and use boards to protect your windows from falling debris. We also use a rubber wheel dumpster to prevent damage to your driveway. On most jobs we will also use an Equiptor, which allows our crew to tear off the shingles then deposit and dump them at roof level.
Shingle Tear-Off
All existing shingles are torn off and removed. This allows us to inspect the wood and fix any damage. Companies that don't do this and just install another layer of shingles are risking your roof installation by installing new shingles on a roof that might have major, but easily fixable issues.
Remove and Replace All Drip Edge
Drip edge is metal flashing that is installed around the top of the fascia, which helps protect the wood along the top of the fascia from moisture.
Ice & Water Barrier
Protects the most vulnerable areas of your roof and helps prevent water penetration and ice dams. We install 6 feet of Ice & Water barrier around the perimeter of the roof and inside all valleys.
Synthetic Underlayment
We then cover all remaining wood with synthetic underlayment. This gives another layer of protection underneath the shingles.
Starter Shingles
A two sided asphalt strip installed under the first row of shingles. This creates an improved seal between the shingles and the roof protecting it from wind gusts and moisture.
Roof Ventilation
This is one of the most important parts of the roof. If your ventilation is inadequate, the hot air in your attic will literally cook the shingles and cause them to fail prematurely. Using either ridge vents or can vents for exhaust and smart vents or soffit vents for intake, we will make sure your attic is ventilated correctly so your new roof lasts as long as it should.
Shingles
Once the rest of the system is installed, we now install the shingles. We install them to manufacturer spec with the correct amount of nails per shingle. We use Atlas and Malarkey shingles because of the quality both companies represent. We also use install the 3M Scotchguard versions of their shingles, which will protect the look of your home from mold and discoloration for years.
Hip & Ridge Shingles
For the ridge cap, we only use true hip & ridge shingles. Many companies will use a 3 tab shingle broken into 3 parts instead. True hip & ridge shingles are made to be installed at the peak of your roof, where a strong shingle is needed.