Guaranteed satisfaction and FREE re-inspection of work EVERY 2 YEARS!
Martino Home Improvement is a family company who brings three generations of experience to our tremendously valued customers.  Our motto is, "Large enough to trust, small enough to care." We mean this and it shows in every aspect of how we treat our customers – they truly become part of our family.  We offer the best of both worlds – a company large enough to know that we will take care of all of your home improvement needs from roofing, to siding, to concrete, to sun rooms, to interior home remodeling, to windows, and more – but one that is still family-oriented and knows all of our customers by name.
The Martino Home Improvements Process
Schedule a Free Estimate
Chat with a Live Consultant
Create Your Project
Discuss your project with our qualified sales consultant

Decide on options that suit your style and budget

Work with our financing department (if needed)

Get a firm, fair price in writing
Start Your Project
Meet with your dedicated project manager

Our crews will show up daily and maintain a clean work site each night
We're Not Done Yet!
We do a full post inspection after every job

Follow-up call after one month to ensure satisfaction

Free inspections of our work every other year
We look forward to working with you to be a resource to answer your home improvement questions, whether it is to quickly and thoroughly fix something that is causing a problem, or to help you design and attain the dream home you have always desired.  We'd love to be part of your journey!
Give us a call and join the Martino family today!
Certified Roofing Contractor and Home Improvement Specialist in Madison Heights
If you're considering exterior home improvements, why not choose the contractor more Southern Michigan homeowners choose most: Martino Home Improvements. As a preferred contractor for the 2 largest "big box" home improvement retailers, you can rely on Martino Home Improvements to provide the best value and professional craftsmanship for your new roof, new siding, leaf guard gutters, energy efficient windows, or new cement drive and walkway.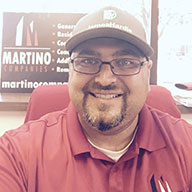 "If it isn't perfect, it isn't done!"
It's why families all over Michigan have trusted us with their homes for over 30+ years… it's the way my Grandfather did it, it's the way my Dad did it, and by God, that is the way we ALWAYS do it.
– Martino, Owner of Martino Home Improvements
We just completed another roof replacement near us, here in Madison Heights.  With this customer, they had a tree branch fall onto their roof.  Since the entire roof was due for a replacement, we opted to repair the damage as the entire roof got replaced.
Madison Heights Roof Tear-Off
We started by tearing off the existing shingles.  Once we got to the bare roof decking, all damage from the tree branch falling was then repaired.  We then installed six feet of ice & water barrier, then installed Owens Corning Pro Armor synthetic underlayment on the remaining portions of the roof.
Madison Heights Roofing Installation
Once the old shingle were torn off, the decking was repaired, the ice & water barrier were installed and the synthetic underlayment added, we installed the shingles.  For this roof, our roofers installed Owens Corning Duration Tru Definition shingles in the Brownwood color.  The Tru Def shingles also come with a 25 year warranty, which makes this an excellent choice.
We also replaced all of the existing gutters and downspouts with new aluminum ones in the royal brown color.