At Martino Home Improvements, we take immense pride in delivering top-tier roofing solutions to our clients. With a steadfast commitment to excellence, we have earned our reputation as Michigan's leading roofing contractor. Utilizing a blend of superior materials, advanced roofing techniques, and an unmatched level of professionalism, we strive to surpass your expectations. Whether you need a simple repair or a comprehensive roof replacement, Martino Home Improvements is your trusted partner every step of the way.

Our Home Roofing Services
Martino Home Improvements excels in various roofing services, each specifically designed to cater to your unique needs. 

Roofing Installation
With Martino Home Improvements, roofing installation is a seamless and stress-free process. We use only the highest quality materials, and our experienced team ensures a flawless installation that not only enhances the aesthetic appeal of your home but also offers long-lasting durability.
Roof Repairs
Even the sturdiest roofs can face wear and tear. Our roof repair services are designed to address various issues, from minor leaks to significant damage. With prompt response times and meticulous attention to detail, we ensure that your roof is back to its optimal condition in no time.
Comprehensive Roof Replacement
If your roof has reached the end of its lifespan or has suffered severe damage, our comprehensive roof replacement service is the solution. We undertake a thorough analysis of your current roofing structure and provide a customized, high-quality replacement that caters to your unique needs and budget. With Martino Home Improvements, rest assured that the safety and comfort of your home are in reliable hands.
Why Choose Martino Home Improvements
When choosing a roofing contractor, there are several reasons why Martino Home Improvements should be your first choice. Let's delve into some of the distinguishing aspects.
Industry Experience
At Martino Home Improvements, our longstanding industry experience enables us to offer unparalleled roofing services with confidence and expertise.
Client Satisfaction
Prioritizing client satisfaction is at the heart of everything we do. Discover how we go the extra mile to ensure our clients are delighted with our exceptional service.
Competitive Pricing
At Martino Home Improvements, we do not compromise on quality. Despite offering top-notch services, our pricing remains competitive, providing excellent value for your investment.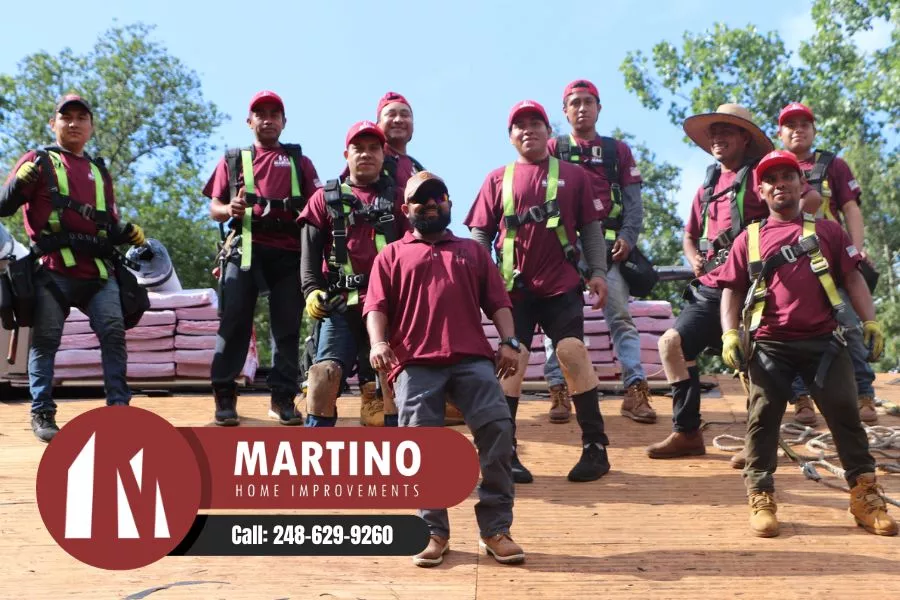 Commitment to Excellence
At Martino Home Improvements, our commitment to excellence is unwavering. Every project we undertake is executed with a high level of professionalism, integrity, and dedication. We source superior materials from trusted suppliers and leverage the latest roofing techniques to ensure we deliver nothing less than the best.
Professional Craftsmanship
Our team of experienced professionals is skilled in the art of roofing. Each member brings a wealth of knowledge and expertise, resulting in top-notch craftsmanship that stands the test of time, weather, and wear. In all we do, our goal remains to provide maximum customer satisfaction, superior service, and a roofing solution that meets and exceeds your expectations. With Martino Home Improvements, you choose excellence, durability, and peace of mind.
Superior Materials and Techniques
At Martino Home Improvements, we firmly believe that the quality of the materials and the techniques employed play a crucial role in the longevity and performance of a roof. We use only the most durable and weather-resistant materials in our projects, sourced from trusted suppliers. We continuously update our methods to incorporate the latest advancements in roofing technology, ensuring that our customers receive the most efficient, secure, and cost-effective roofing solutions. From traditional asphalt shingles to modern metal roofing, our vast selection caters to various aesthetic preferences and budget constraints. Our expert team meticulously installs each roofing system, adhering to the strictest industry standards for a superior, long-lasting finish. This unwavering dedication to quality materials and advanced techniques sets Martino Home Improvements apart as a leader in the roofing industry.
Get in Touch Today
Take your time securing the absolute best for your home. Give Martino Home Improvements a call today at 248-629-9260. We would be thrilled to provide you with a free quote for your roofing needs and answer any questions you may have about our services. Let us show you why we are Michigan's first choice for roofing solutions. Remember, with Martino Home Improvements, you choose quality, durability, and peace of mind.
We look forward to serving you!