When it comes to redoing your roof, you want to select a shingle that's aesthetically pleasing and offers good protection for your home. There are three common types of roofing shingles that Martino Home Improvements installs on homes: three-tab, architectural, and designer shingles. These three shingles each have their own advantages and choosing one depends on the house as well as the homeowner's goal. To make the process easier on you, we've given an overview of each shingle.
Three-Tab Roofing Shingles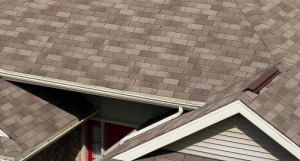 These were most common type of roofing shingle, three-tab shingles, and are considered "economy" shingles. They are rarely install any more. They generally last from 15 to 20 years, offer moderate wind resistance (up to about 60mph), and weigh about 180-240 pounds per square. This shingle gives off the impression of being 3 distinct shingles per sheet because of its three quarter-inch notches that are cut at 12" lengths along the visible lower half. You can find three-tab roof shingles in a variety of colors and when installed the final look is flat and uniform compared to the other types. If you're going to buy these, Certainteed, Tamko, and Owens Corning are the top brands for these shingles.
Architectural (Dimension) Shingles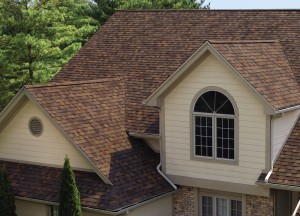 A relatively new option in residential roofing, architectural roofing shingles weigh around 200-300 pounds per square. Because of their thickness, these shingles provide significantly better wind protection than three-tab shingles and are usually installed with a 30 year or more warranty. These shingles are often referred to as Dimensional Shingles because of the three-dimensial appearance that they create once installed. Many people choose them because of their refined look.
Designer Architectural Shingles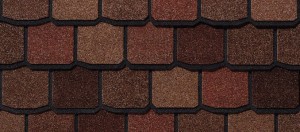 At the top of the shingle line, you'll find designer architectural shingles. These shingles are designed to mimic the look of slate, wood shake, metals and other classic roofing materials. In addition to their aesthetically pleasing look, they also provide superior protection and weigh between 340-480 pounds per square. Their heavy weight requires a thicker roofing deck, and sometimes roof reinforcement. This shingle is commonly used on historic homes and buildings to maintain a historically accurate look, but they give a distinct appearance to any home. While the most expensive shingle per square, designer shingles protect and look better, and last longer than most shingles. It's important to weigh all factors before choosing a shingle. While three-tab shingles may seem more economical, architectural shingles last longer. You'll also want to go with a shingle that offers better protection and fits the style of your house. We've covered the basics here, but every home is unique and it's best to consult with a professional roofer before finalizing anything.
If you are in Oakland County, Macomb County, Wayne County or the surrounding areas and need work done to your home's roof, give Martino Home Improvements a call at 248-629-9260. We can come to your home, give a free roof inspection and a free quote.