What Can Go Wrong With A Concrete Driveway In Oakland County?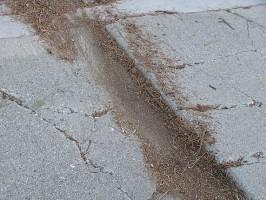 When a Michigan concrete driveway starts to show signs of stress and large cracks begin to form, its time to get an inspection from a trained and knowledgeable concrete contractor. You may begin to see large chips of concrete loose or missing. Driveways with cracks are not only unsightly but also can be dangerous in a Michigan winter with the thawing and freezing we all deal with. Large cracks or sharp edges can pose a dangerous trip and fall situation and should be put on the top of your of home improvement priority list. Call Martino Home Improvements qualified concrete contractors for driveway replacement, driveway repair and concrete repair in Oakland County Michigan.
If You Live Oakland County Area And See Signs Of Damaged Concrete
If the signs of a damaged driveway is caught early enough and assessed by a concrete professional, the costs can remain low and the repair time fast. If we fill the cracks quickly and do a little post crack repair inspection, your immediate concerns will addressed. Most major concrete damage is caused by water getting into the cracks and then freezing from a cold Michigan winter. Martino Home Improvements is your Oakland County concrete repair specialist and have many pricing and repair options available. Call us to inspect your concrete driveway every season and look for the cracks that lead to major problems and more costly repairs.
If You Need A Full Driveway Replacement Call Martino Home Improvement
Completely replacing your driveway is always the best answer when signs of cracks and damage are progressively getting worse. Our remedies to fix and repair your concrete driveway do work and can add time but ultimately replacement is the final answer. New concrete can be decoratively stamped, custom painted or dyed to create a totally unique look that will have your neighbors talking. No matter whether your needs may be a repair or new concrete replacement, get a free estimate from one of our skilled concrete installation representatives. Just fill out a free estimate request form or call us and get started today! 248-629-9260
Oakland County Concrete Repair And Replacement