Whether you're a homeowner or business owner in Madison Heights, MI, your landscape has an important job to do. Your outdoor space adds curb appeal and makes your landscape safe and easy to navigate. Investing in high-quality landscape installations can make your property more attractive and even increase its value. Yet, it can be difficult to determine what materials offer the best return on investment. When you're planning to invest in upgrades or repairs to your landscape, you want to use materials that are attractive and durable, but actually fit into your budget.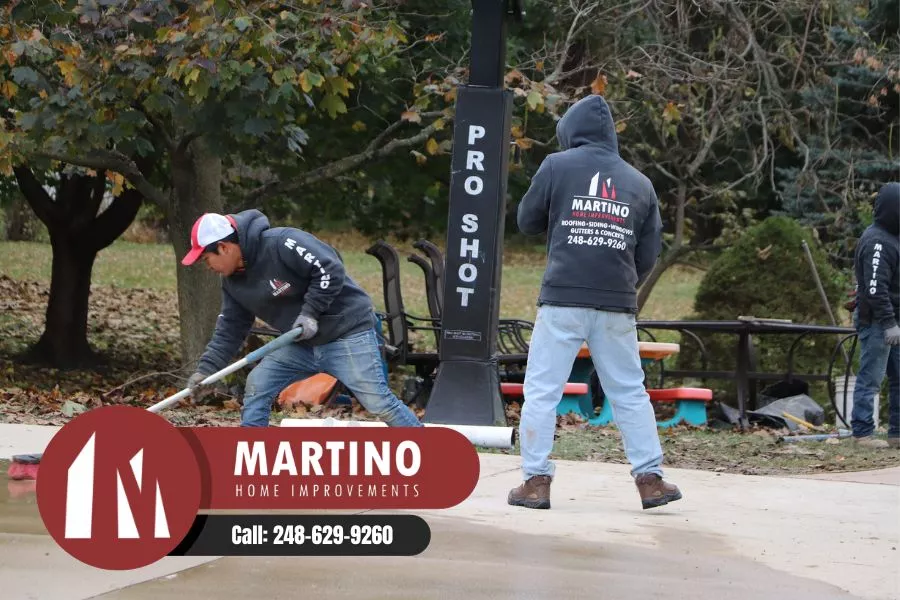 You may be surprised to learn that concrete is the ideal material to use for both commercial and residential landscapes. It is long-lasting, requires minimal maintenance, and is aesthetically pleasing. Modern concrete options can even be customized with color and shaping, and stamped to mimic other more expensive materials.
Wondering if you could really use concrete for your landscape repairs and upgrades? Here, we'll explore the many ways concrete is being used on residential and commercial properties in Madison Heights.
Parking Lot Replacement
Commercial parking lots are typically composed of plain black asphalt. Sure, it's functional, but it gets incredibly hot in the summer and does little to improve curb appeal for businesses and multi-family residences. If it's time for you to replace your parking lot, you may want to consider the value of using concrete.
Concrete lasts nearly twice as long as asphalt, with a life expectancy of around 27.5 years. Asphalt also comes with substantial maintenance requirements, like crack sealing every few years and a complete seal coat in less than 10. Yet, durability isn't the only benefit of a concrete parking lot. Concrete's light color keeps it cooler than asphalt parking lots and makes pedestrians easier to see.
In some cases, concrete parking lot replacement can mean removal and replacement of the existing lot. This is especially likely if the subbase has failed or is severely damaged. However, in some situations, it's possible to apply a concrete overlay to an existing lot. This would be a less expensive option and can be used on both concrete and asphalt surfaces.
Parking Lot Installation
Whether you're opening a new business or creating improved parking options, parking lot installation is a worthy business investment. Paved parking areas improve safety with clearly marked lines and smooth surfaces. The durability of concrete makes it a popular choice for a new parking lot installation. Other advantages of concrete can also work to help you draw attention to your commercial property.
These are just a few examples of the reasons why modern businesses choose concrete parking lot installation.
The lighter color of concrete in comparison to traditional blacktops is aesthetically pleasing, drawing more attention to your establishment.
Lighter-colored materials are also more reflective, reducing heat absorption. As a result, the surface remains much cooler, protecting pet's paws and children's bare feet.
Concrete can help you meet sustainability goals by reducing the need for multiple lights, diminishing energy required for repairs, and reducing the urban heat island effect.
Customization options add another way to give concrete lots a major appearance upgrade. Concrete can be colored, textured, patterned, and shaped to add personality to your parking lot.
Concrete parking lot installation is a multi-step process that produces a strong and durable surface. First, the ground must be prepared to ensure the space is uniform and well-drained. After the natural ground, or subgrade is graded and compacted, a subbase of sand or gravel is applied. Before the concrete is poured, a test will be performed to check for rutting and overall strength. Installers will then install curbs and gutters. After the concrete is poured, it can take a few days to fully cure.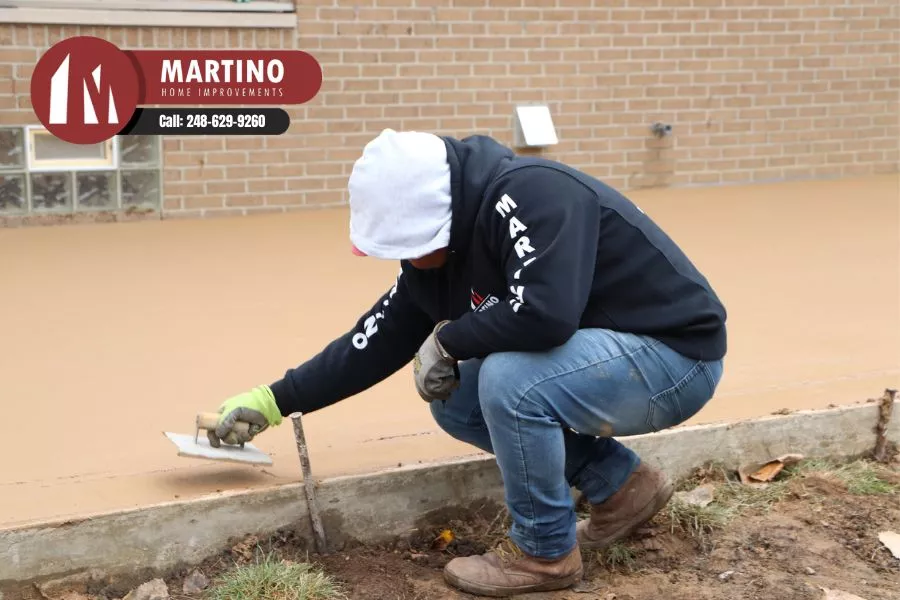 Commercial Driveways
Like parking lots, commercial driveways must meet certain safety requirements. The path leading to your business or multi-family property also provides visitors with an important first impression. An attractive driveway that is easy to navigate makes your landscape more appealing.
While perfectly legal, unpaved driveways can have a poor impact on businesses and public spaces. Gravel and dirt roads are more difficult to keep in top shape. Storms, heavy traffic, and uneven terrain can cause potholes and ditches that make driving more challenging and can even cause vehicle damage. Potential customers hoping to protect their cars could avoid your business just to skip the driveway.
Concrete is one of the most versatile construction materials available, and is ideal for driveways. A concrete driveway comes with fewer maintenance requirements than asphalt and other materials and is remarkably durable. Vehicles of all weights (including heavy shipping trucks) can travel over concrete driveways without having an adverse impact. Maintenance is as simple as washing off dirt with a high-pressure hose and trimming back nearby grass and vegetation.
Before customers even reach your business, your concrete driveway shares your commitment to your business and your desire to improve the environment. Making concrete takes far less energy than making asphalt, resulting in a far more eco-friendly product. Concrete driveways can also be beautiful, reflecting your desire to make a good impression on your customers with quality materials.
Residential Driveways
Impressive driveways aren't reserved for commercial properties. Consider all the landscaping features that make your outdoor space amazing. From plantings to lush green grass and patios or seating areas, the different aspects of your landscape make it more appealing. A residential driveway is a big part of a home's surrounding landscape. Its appearance affects the surrounding areas and its functionality impacts the ease of travel around your home.
A concrete driveway is a great way to transform your landscape. Since it's durable and long-lasting, it can increase your property value. Concrete is easy to care for and is less expensive than many other landscaping materials. It can also be beautiful, and enhance the appearance of your entire landscape. There are many ways to pour and decorate concrete. Stains can be used to create an array of patterns and designs. Concrete can also be shaped and formed to mimic the appearance of more expensive materials like brick and stone while providing a substantially more durable surface that rarely requires repairs.
Aggregate Concrete
Concrete is made up of materials like sand, gravel, and crushed stone. These materials are referred to collectively as aggregates. While aggregates aren't always visible in concrete, some forms of concrete are designed to reveal the aggregates. Coarse aggregates in concrete create a textured surface composed of pebbles, rocks, and sand. Aggregate concrete isn't as smooth as other concrete types, giving it more traction. This is an appealing feature for driveways, paths, and the area surrounding pools.
Exposed aggregate concrete is created by removing the surface layer to reveal the rough materials underneath. This rugged surface offers an entirely new appearance that adds appeal to many outdoor elements, including driveways, steps, patios, and poolside platforms. Aggregate concrete is composed of natural materials, and its appearance is influenced by the size and shape of the particles as well as the natural color of the cement content. As such, aggregate concrete comes in a variety of natural colors with contrasting particulates incorporated into the mix. Natural colors of aggregate concrete range from white to various shades of grey and brown. Like other concrete types, the finishes applied to aggregate can also influence the color. While aggregate has a more natural appearance, sealants can range from matte to glossy finishes. It can even be polished to present a glass-like, reflective surface that is often used indoors.
Stamped Concrete
Modern concrete installation processes enable professionals to create concrete finishes that mimic other materials. Stamped concrete can be made to look like stone, slate, brick, flagstone, and even wood. This is achieved by adding color to the concrete mix and with the use of special stamps that add texture and pattern to the concrete's surface. Stamped concrete is typically more durable and easier to maintain than the materials it's designed to imitate. It's also significantly less expensive than many of these options.
Since stamped concrete can be customized, it can used in a variety of different areas. Stamped concrete is a popular choice for patios, driveways, pool surrounds, pathways, and retaining walls. Like other concrete materials, stamped concrete boasts the advantages of low maintenance requirements and durability.
Creating Beautiful Spaces with Professional Concrete Installation
Properly installed concrete driveways, patios, and other features are beautiful and can last for decades. With a limited need for repairs and a variety of finishes and surface options, concrete can enhance the appearance of your commercial or residential landscape and improve your property value. Professional concrete installation can give your home or business an elegant appearance that enhances your home's beauty or adds professionalism to your business.
As one of the most durable and affordable construction materials available, concrete is the ideal landscaping solution for a variety of projects on residential and commercial properties. To learn more about the benefits of improving your property with concrete installation, get in touch with our expert team for a consultation or custom quote at Martino Home Improvements.