Now that the sun's shining, it's time to get to work on home repairs. Windows are a great place to start as the upgrades can be easy and cheap. Also, windows have a lot to do with how cool your house is in the summer. So here are a few home window upgrades that you can do this weekend to help save you money on energy bills this summer.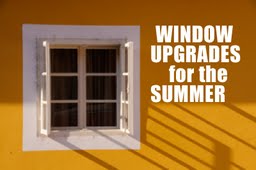 Replace Weather Strips and Caulk
Drafty windows aren't just a problem in the winter. Cool air from air conditioning can go right out the window making your house warmer than it should be this summer. Rather than replacing your windows, you can fix the problem by adding new weather strips or applying a new layer of caulk. Just look for any cracks and gaps and get to work on fixing the trouble areas. Of course, if you find a lot of these trouble spots it may be time for new windows.
Add Window Film
To help save money on your energy bills, you can add tinted film to your windows. This will block UV rays from penetrating your home and keep your house cooler without costing you a ton of money. Solar film typically starts at around $20 a roll. In addition to cooling benefits, it also helps to prevent your carpet and furniture from fading out in the sun.
Upgrade to Solar Shades
Solar shades are exactly what they sound like. They are shades that block UV rays just like solar window film does. The advantage of these over film is that solar shades won't change the look of your actual window. After adding window film, there will be a tint to your window whereas you windows will look the same when you roll up your new shades. This option is a little pricier than window film, but in addition to cooling benefits, you'll also add to your home's decor. Now-a-days, solar shades come in a wide range of styles, fabrics, and colors so it's easy to find the perfect shades for your home. Now that you know your options, what are you waiting for? Get out while you can because you never know when the weather will change in Oakland County Michigan.
If you are in Oakland County or the surrounding areas and are looking for a residential window installer, we would love to give you a free estimate. Give us a call today!